How will you decide if a site is at a good location for a new store or not? Even if it is a good site in a good location, how can you be sure that your store will earn profit there? Sitting new store, location is everything. Location decides whether your new store will run or not. So, how can you be so sure that the location which you have selected the right decision and pick the location with the best business potential? Retail site selection i not only becoming more crucial, but it has also become more valuable. Retail store location data helps different businesses to decide expand their business on the best location. It can be done by combining various types of data to get the most accurate information. It allows companies to know potential areas and quantify how robust they are in make-up. It can provide information on the locations of other stores including the stores of competitors, and identify areas that are growing and shrinking. It can provide information on areas of increasing or decreasing traffic.
Who Uses Store Locations Data and For What Uses?
All companies can be benefited from using Store location data analytics in their decision-making. With Location Intelligence, you can improve location-based marketing and notice patterns. Historic, present, and future can collect from this data so that you can make better decisions and choices on where to site your new companies. You can't stay in business unless people in your location eager to come into your store and buy from you. But knowing you have the correct consumers nearby it's not a big deal. What about after five, ten, or fifteen years? Store Location data not only provides you the related insights but helps you find a good location for your business and you can do predictions on how your company will progress in the future. It can help to classify untouched markets. Retail store location data will help you to find out the best location for your ecommerce or retail business.
A perfect Business location data system needs to flag up any worries on the store placement. It should make you well aware of future prospects if any. It must inform you of any potential participants in your suggested area who can supply demographics on existing stores in the area. The custom-made analysis and demographics provided by your Retail store location system permits your business to make better decisions.
Local area demographics and potential customer behavior datasets give visions of whether that area is good for the new store or not. Retail store location data analytics assist you to calculate potential clients and profile them utilizing data analytics for customer classifications, to measure market requests in a potential area if that location contains a customer base. Markets are demanding and searching for correct clients who will come to your business is a key to success. Recognizing sites companies can target for expansion is an important part of your company's determination of going forward. In retail it is very important to stay ahead of your participants. Using our Retail location data Analytics helps you to locate your new business so that you can achieve maximum revenue.
What Are Typical Retail Store Location Data Attributes?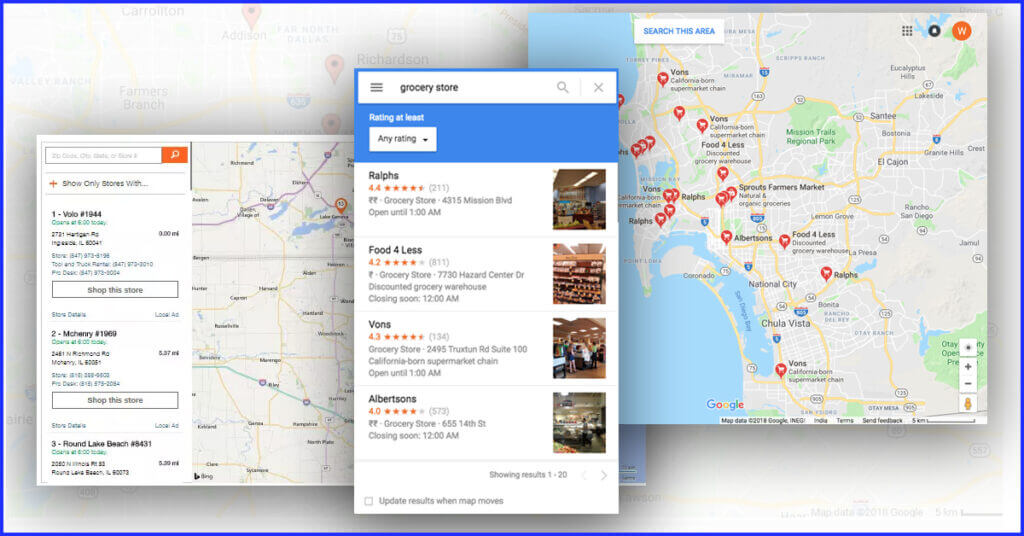 Retail store locator provides data related to locations you might wish to build a business. You can easily click on the area on the map you are planning to build your business. Classic store location data attributes include Latitude and Longitude which demonstrates the position of the particular location. Extra features like horizontal accuracy which focuses on the degree of a particular data point, altitude, and elevation which identifies the height above a location point (usually sea level), might contain a more perfect picture of geographical locations. Foot traffic can be built as a feature in a custom-made system.
How Retail Store Location Data is Typically Collected?
It is very important to know how Retail store location data is collected. This decides the depth and accuracy of the gathered data. This has direct suggestions for the usability and suitability of the data for your company. Typically store locations data is gathered by data collection workers by SDKs (Software Development Kits). SDKs are useful as they include a collection of development tools built into one set like compiler, software framework, debugger, enabling custom-made applications to be considered.
A Business owner usually buys store location data or location data feeds from data providers like LocationsCloud. A business owner will give all the information about data collection providers like which type of data they would like to have, like foot traffic and how many competitors the company has in the particular area. Then the data provider will use POI or they will provide data that fits your needs, as per your requirements.
The data gathering provider collects Retail store location data by analyzing and cross-mapping the geo-located data that executes quality checks and offers raw data to companies. If you need data, they will give you data as per your need, you just have to load it into your system.
How To Assess The Quality of Retail Store Location Data?
The superiority of the data you get is excellent for the success of your company but can vary from one data supplier to another. The data which we are providing to you will be not harmful to your company if it is good quality data. So are you sure you have got good quality and valid Retail store locations on time? Below are some steps you can look out for:
Remember you buy retail store location data from a reputed location data provider company.
Get suggestions from other business owners who are already using a Retail store locator data provider.
Monitor the Store location data for correctness over time.
Use AI systems to monitor for double entries and incomplete records.
Ensure trust and alerts scores are built-in.
What Are Some Common Challenges While Buying Retail Store Location Data?
There are many challenges that business face while buying Retail store location data, like:
Ensure that you get up-to-date, real-time, and not outdated data.
Ensure that the data you get is unique and fulfills company needs.
Ensure that data is of good quality.
What You Can Ask Store Location Data Provider?
There are many questions you may ask that the company should keep in mind while talking to data providers. Companies may ask:
Is Store location data a real-time data or updated on a daily basis?
How store location data is gathered?
Is store location data custom-made to match companies' requirements?
Will your store location data result will be stored in a particular database?
How quickly store location data supply?
Will the store location data analysis report contains opportunity assessments and causes of concern?
Who Are The Best Store Location Data Providers?
LocationsCloud is the best Retail store location provider company. They provide store location data as per the client's requirements, which can fulfill their needs.
How Can I Get Store Location Data?
LocationsCloud is the best source to get real-time, accurate, and customized Store location data.
What Are Similar Data Types To Store Location Data?
There are some data types of Store location data are as follows:
Grocery Location Data
Home Improvement Store Location Data
Business Location Data
Electric Vehicle Charging Station Data